You may be looking for Freddy fazbear or Toy freddy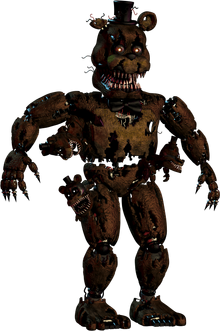 Nightmare Freddy is the main character in Five Nights at Freddy's 4.
first appearance
He appears randomly in Night 1 and starts moving in Night 1.
trivia
He is random because he does not appear in the door way only his small plushies could appear sometimes in the bed and he appears when he attacks the player.
Ad blocker interference detected!
Wikia is a free-to-use site that makes money from advertising. We have a modified experience for viewers using ad blockers

Wikia is not accessible if you've made further modifications. Remove the custom ad blocker rule(s) and the page will load as expected.